Stamped, hardened and tempered steel.
Technical description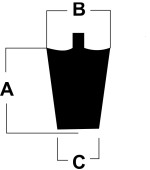 (mm)
(g)
Cóodigo / Code
-A-
Largo / Length
-B-
Hombros / Shoulders
-C-
Boca / Mouth
Peso / Weight
Empaque / Packaging
01.20.206.99
300
190
155
2090
6
Autoafilado

La disminución gradual del espesor de la hoja desde los hombros a la boca otorga mayor robustez, peso justo, penetración y afilado ideal.

Self-Sharpening

The gradual reduction of the blade thickeness from the showlders to the mouth, gives penetration, more strenght, the correct weight and the ideal sharpening.